Programs Offered
Finance
Marketing
Human Resource and Organizational Behavior
International Business
Management Information Systems
Entrepreneurship and Small Business Management
Business Analytics
Event and Media
Operation Management
Banking and Insurance Management
Aviation Management
Healthcare Management
Waste Management
Scholarship Policy
Schemes 'Utkarsh' and 'Uttam' for the candidates on the basis of MRNAT-2022 Score for UG & PG programmes:
| MRNAT 2022 Score | 'Utkarsh'* | 'Uttam' ** |
| --- | --- | --- |
| 90% and above | 100% Tuition Fee Waiver | 100% Tuition Fee Waiver |
| 80.00% & above but below 90.00% | 50% Tuition Fee Waiver | 25% Tuition Fee Waiver |
| 70.00% & above but below 80.00% | 25% Tuition Fee Waiver | 10% Tuition Fee Waiver |
* Scheme 'Utkarsh' is for candidates taking Admission within a period from (Feb 19, 2022 to June 30, 2022)
** Scheme 'Uttam' is for candidates taking Admission within a period from (July 01, 2022 to August 31, 2022)
PG level Programme (other than MDS & LLM programme)
| Marks / CGPA in Qualifying Examination | Tuition Fee Waiver |
| --- | --- |
| 85% and above | 100% |
| 80% to 84.99% | 50% |
| 75% to 79.99% | 25% |
| 70% to 74.99% | 10% |
On the basis of CAT-2022
| CAT-2022 Score / Marks | Tuition Fee Waiver |
| --- | --- |
| 80% and above | 100% |
| 75% to 79.99% | 50% |
| 70% to 74.99% | 25% |
On the basis of MAT/CMAT/ATMA-2022
| MAT/CMAT/ATMA-2022 Score / Marks | Tuition Fee Waiver |
| --- | --- |
| 95% and above | 100% |
| 90% to 94.99% | 50% |
| 85% to 89.99% | 25% |
If you have any query, please call at 0129-4259000 or mail at admissions@manavrachna.edu.in
Education Loan Facility
Manav Rachna has collaborated with Punjab National Bank to facilitate its students who are interested in availing education loan.
Contact:
Mr. Nikhil Raina
Education Loan Coordinator
E-mail: educationloanhelp@mrei.ac.in
Mob: +91-9599655227
Manav Rachna Group has also tied up with Credenc to help students avail education loans easily from a number of banks and NBFCs. The education loans are offered based on the credit history of the co-applicant and academic performance of the applicant. https://www.credenc.com/financial-aid-manavrachna
Contact :
Mr. Aamil: +91-8054134645
Course Highlights
4-tier Mentoring Program.
120+ Case Studies.
Guest Lectures, International Tours and Student Exchange Programs.
Industry-Academia Collaborations with BSE.
Guest Lectures under the banner of CEO Talks- Inspiring Young Managers
UDYAM Entrepreneurship Cell
CEO Talks - An Industry Leader Interaction Initiative
Speakers:
Mr. Hari Krishnan, Founder, Culture Drum
Ms. Anisha Motwani, Business Strategist, speaker, author, and columnist
Mr. Amitabh Verma, CEO, AMP Digital
Sh. S.Y. Siddiqui – Chief Mentor, Maruti Suzuki India Limited
Mr. Nishchae Suri- Partner & Head, KPMG Academy
Mr. P. Dwarkanath- Advisor - Group Human Capital, Max India
Mr. Sandeep Nagpal- Director, Ladders HR
Rankings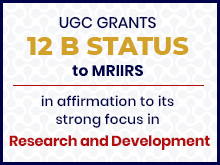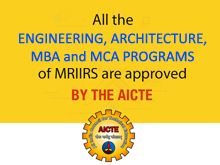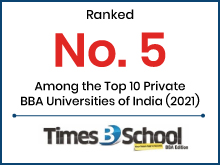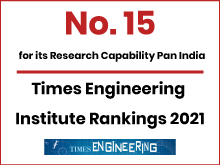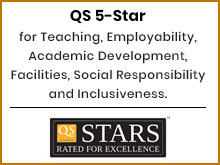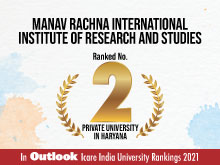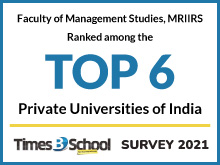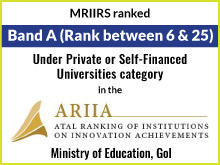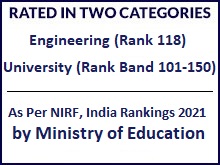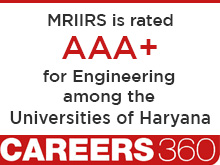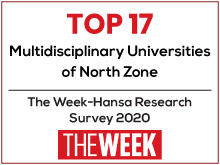 Testimonial
"The importance of hard work and perseverance which had been instilled into us during MBA, took me up to the Star of the Year Award for FY 2014-15. Apart from crucial trade operations management, cricket continues to be an important part of my itinerary". Current Position- Trade Operations Manager at IMR Metallurgical Resources AG (a Swiss Company)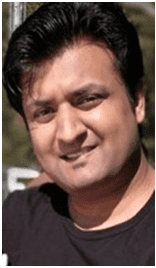 CHAYAN MEHTA
MBA (Batch: 2009-11)
"While pursuing MBA, we were always told so but it is after 7 years in the B2B industry that I have realized that constant upgradation and hard work are the key to survival and success. The multifaceted exposure provided in the MBA program has made me work across retail, IT and HR domains." Current Position- Senior Sales Manager at Channelplay Limited.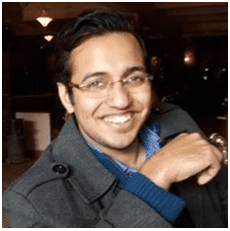 RASIK MATHUR
Alumnus of MBA (Batch: 2010-12)
"From a student to a student leader, to leading the CSR projects in Haryana state, I attribute my journey to my MBA sojourn at Manav Rachna where socially responsible practices and activities were a part of our routine. It helped me understand the dignity of individuals and thus I decided to work with people and for people." Current Position- Public Relations Officer at District Administration-Gurugram, Haryana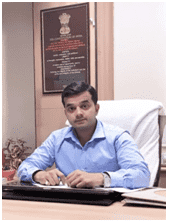 GAURAV THAKUR
MBA Alumnus (Batch: 2013-15)
My faculty members at FMS contributed to this belief. It is with their blessings and guidance that "ALLURE BY OMAL SINDWANI" (an apparel label) is successfully running in North India. Couturier: 'ALLURE'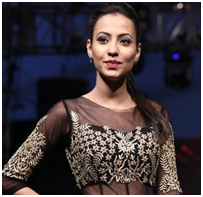 OMAL KUKREJA SINDWANI
Fashion Designer
"Starting my MBA journey with Manav Rachna International Institute of Research and Studies is the best decision. The amount of Case Studies being taught in our classes itself leaves no room for extra hunting of knowledge. The best part is that we are provided with a Professor-Mentor who assesses us personally in the times of difficulty not only in academics but also helps us in our personal growth."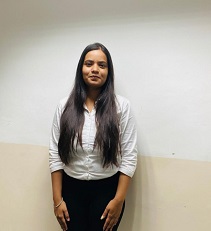 Shipra
Sem II Student of MBA Dual Specialization
"Role plays, news, case studies and expert lectures- the variety of activities at FMS was ever expanding!" Current Position- Senior HR at Truechip Solutions .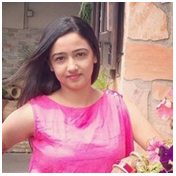 DIPTI SAHU
MBA Alumna (Batch 2013-15)
The Manav Rachna Panorama